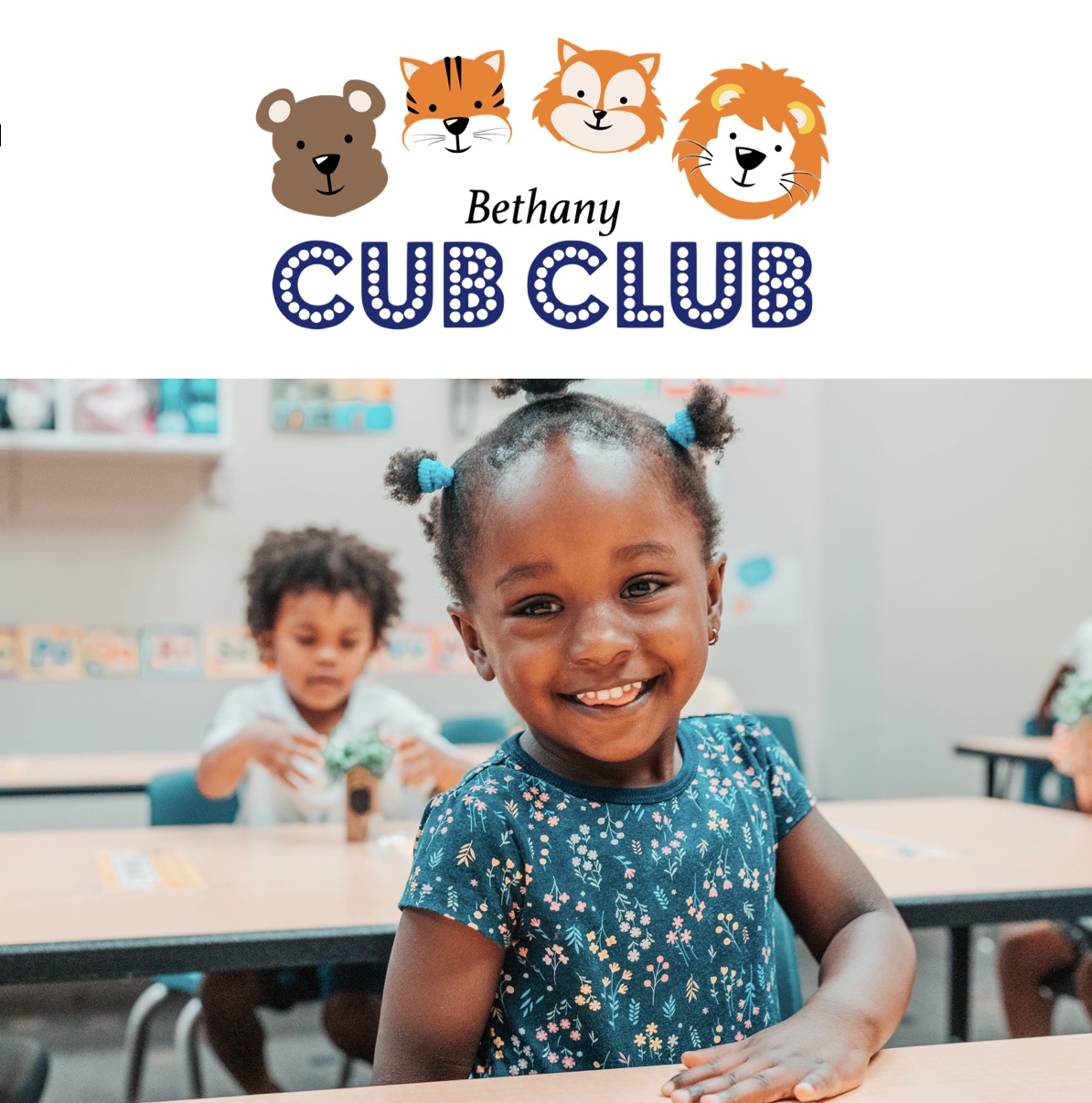 Mission Statement
Bethany Cub Club exists to serve families by helping their children love God, enjoy learning, and care for others.

Cub Club provides a positive, engaging and Christ-centered early learning experience.

Bethany Cub Club follows the same closure schedule as Bethany Christian School.
Cub Club is a Type 1 Learning Center and is privately funded.
Monday - Friday 7:00 a.m. - 5:30 p.m. (Infants - Three years old)
Bethany Cub Club follows the same schedule and closures (Breaks, holidays, etc.) as Bethany Christian School. Our calendar year runs from August - May, tuition being paid one month in advance, beginning in July 2021 and paid in full by April 2022.

Early Learning Experience Curriculum - "Mother Goose Time":
Language Development
Phonological Awareness
Letter Recognition & Formation
Pre-Reading Skills
Number Recognition & Concepts
Development Centers
Sensory-Motor Skills
Pre-Writing Skills
Beginning Foreign Language
Multi-Sensory Experiences
Music & Movement
STEAM Learning
⇒ Click
HERE
to learn more about Mother Goose Time Curriculum.
⇒ Click
HERE
to learn more about Handwriting Without Tears Curriculum.
Also Offering:
Bible Lessons - includes Abeka Bible
Music class for Twos and Threes
Art
In-House Field Trips
Monthly Hot Lunch Service
Lunch
A well-balanced lunch should be planned for your child for each day he/she attends our program. You may pack a sack lunch within licensing guidelines (see handbook), or purchase from the provided lunch service, available for monthly ordering. Cub Club provides whole milk and water for lunch.
⇒ Click
HERE
to view monthly lunch options.
Snacks
Cub Club provides toddlers - three year olds with two snacks per day. Cub Club provides water with snacks.